about us
An Outer Banks Icon
Situated on the Caratoke Highway (NC-168), we are among the first - and last - large independent companies tourists see when visiting the Outer Banks. Our bright green-and-white awnings and open store plan make a distinctive image, and we've done a lot to live up to our customers' expectations. We also maintain a family-friendly atmosphere that makes us as popular with the locals as well as with out-of-towners.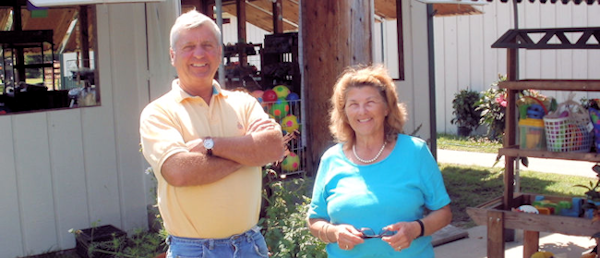 About Allie & Colon
Allie and Colon Grandy have owned Grandy Greenhouse & Farm Market since its inception. They both work hard and thrive in the agricultural lifestyle of north-eastern North Carolina. Colon's expertise is in the production and import of fine produce, while Allie maintains the professional and inviting market area. Together, they nurture their produce all the way from seed to table, giving you the best quality for your money.
A Sense of History
As our name implies, Grandy Greenhouse & Farm Market started with just the Greenhouse and Farm Market over 25 years ago, but we've added to our business since then. We updated our Greenhouse with The Rose Tree, which helped to highlight some of the houseplants we carry. Over at the Farm Market, we've indulged our sweet tooth: expansions include the Bakery and Allie's Frozen Yogurt, both of which show off the delicious goodies we can make with our produce.
Diverse Foods. Diverse People.
In addition to growing our own produce, we import produce from along the Eastern Seaboard. We have partnerships with established growers so that we stock notiable items such as Vidalia onions, South Carolina peaches, and much more.
Once you visit us, you will likely bump into some of our skilled international help. Grandy Greenhouse & Farm Market is a proud host company for several exchange programs that enable ambitious young people from all over the globe to work alongside our local employees during the peak summer months. Not only do we benefit from having the extra help, we are blessed each year with numerous talents and stories to showcase to our customers.
Greenhouse

From perennials to patio plants, we grow a wide range of native and exotic flowers suitable for indoors or out.

learn more

Farm Market

Come in for great local produce, then discover our bakery, fresh fudge, dressings and preserves, and so much more.

learn more

The Rose Tree

The perfect gifts for friends, family, and otherwise. Take home a souvenir of exceptional quality.

learn more