Hayrides
Rural Tradition
Hayrides are a disappearing event, but luckily we still keep at it. Nothing quite captures the magic of a slow tour around the Grandy Pumpkin Patch on a big pile of hay. Reserve your ride, then sit back and enjoy a memorable experience!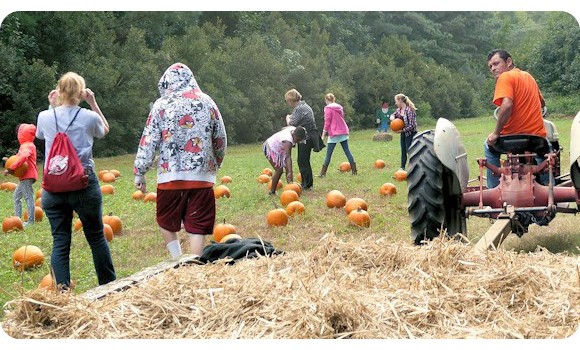 Reservations
Reservations are needed for hayrides Monday to Friday. Reservations not needed on Saturday or Sunday unless you have a very large group.
The hayride wagon leaves about every 30 minutes on the weekend from 9 am to 5 pm, with the last wagon leaving at 4:30 pm.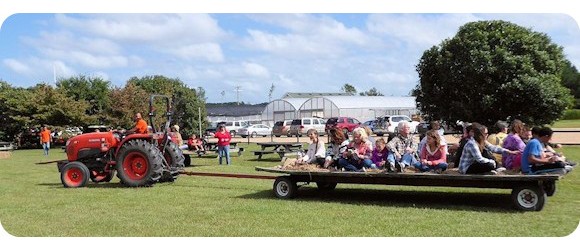 Cider Making
During fall we host cider-making workshops, where Colon shows off a traditional cider press. It's always so satisfying to watch fresh cider squeezed out from an elegantly simple machine! Learn a bit about the history of cider-making from one of the masters, or sit and enjoy your very own "how it's made" demonstration.
Finally, at the end of the show you can enjoy a sample of cider freshly squeezed in front of your eyes!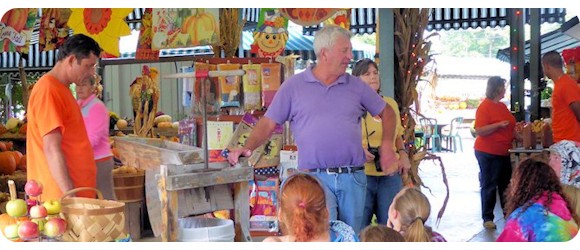 Class Trips
We invite schools to make Harvest Time field trips with us, where we have have many activities to capture childrens' attention and imagination.
After a hayride, children would then move to short workshops where they learn about the harvest, watch how apple cider is made, and stuff scarecrows. At the end of the trip we are happy to treat the children to a bit of Allie's Frozen Yogurt, and the class can take back a pumpkin to remember the trip.
Best of all, we offer a set price for the whole trip, so even larger classes can enjoy the fun of Harvest Time.
If you are interesting in reserving a class trip, please call Allie or Beth at 252-453-2658, or
Contact Us for more information. But hurry, slots are filling quickly!